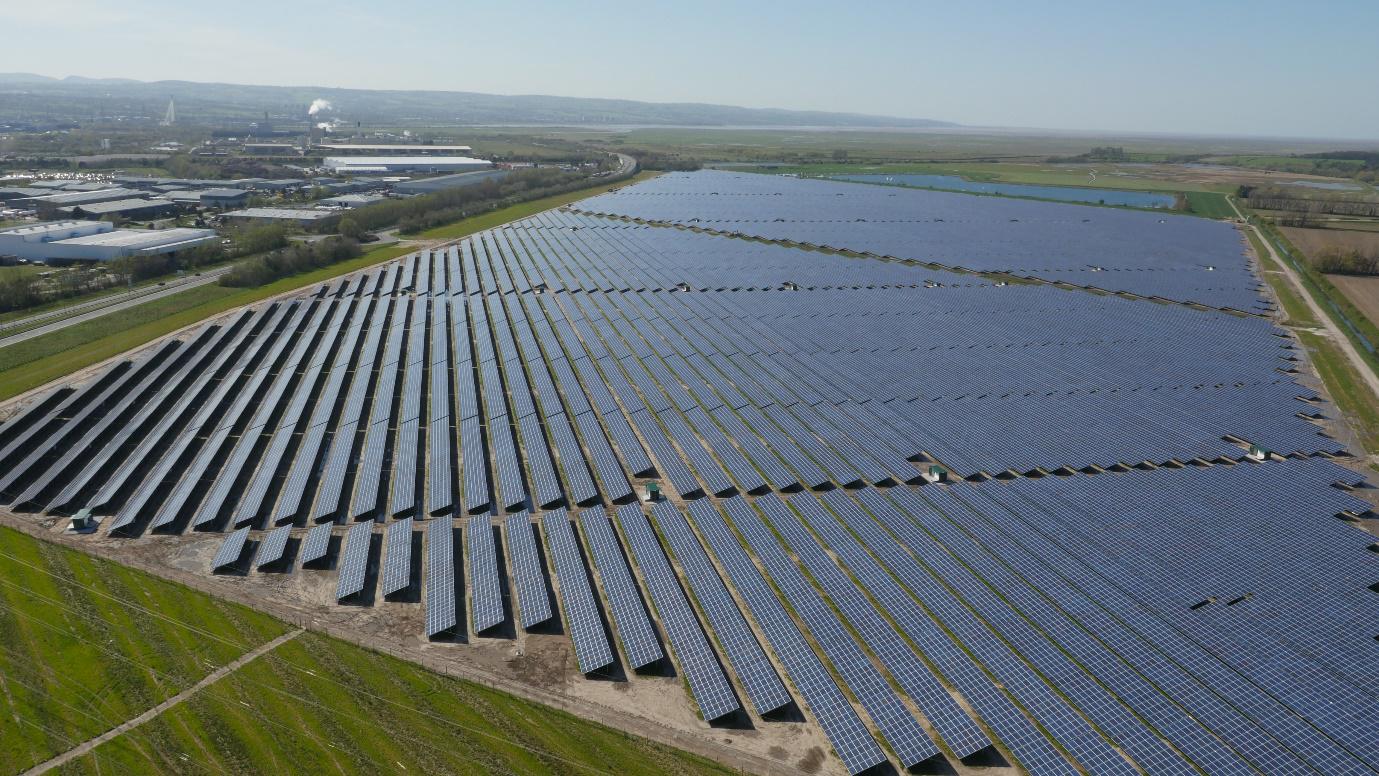 72MW (peak) 50MW (export) Shotwick Solar Park in Deeside
Direct power supply contract with UPM's Shotton Paper Mill, for up to 100% green energy operation in daylight hours, cutting energy costs and saving 202,500 tonnes of CO2 emissions every year
WElink Group is pleased to announce it has completed the sale of Shotwick Solar Park – the UK's largest Solar Park – to specialist solar fund Foresight. Shotwick has 72MW peak capacity with 50MW AC export capacity and covers a 220-acre site adjacent to UPM's Shotton Paper Mill in Deeside, North Wales.
Together with our development partner British Solar Renewables, we worked collaboratively with Foresight and with UPM, the largest producer of 100% recycled newsprint in the UK, to execute an innovative and sophisticated private wire arrangement which also has the flexibility to export to the grid.
The project sets a new gold standard for solar energy suppliers working with the energy intensive industry, and can be seen as part of a wider shift towards corporates sourcing renewable electricity to better manage ongoing energy costs and lower carbon emissions.
The solar park's electricity supply allows the paper mill to run 100% on green energy during the day – saving 202,500 tonnes of CO2 per annum. This represents an attractive arrangement for both the solar park and UPM as a major local employer, delivering long-term environmental and economic benefits to the local community.
Andrew Dodge, WElink's Commercial Director, said:
'We have a very long and proud history of developing large scale solar around the world and as the largest UK solar park, Shotwick has been one of our key projects to date. This project will not only provide clean energy but the power will also be used to provide electricity at an industrial scale proving that solar has matured to become a mainstream mode of generating energy.
Our team and partners have worked extremely hard to bring this project into being and this transaction is not only significant for the WElink Group but also for the renewable sector as a whole.'
Ricardo Pineiro, Partner and Head of UK Solar, Foresight Group, commented:
"We are delighted to reach financial close on the acquisition of Shotwick Solar Park, a project with a unique deal structure, delivering green electricity to Shotton Paper Mill. As the UK's largest solar site the project sets an exciting new precedent in scale and flexibility for cost-efficient private wire arrangements and integration of Renewable generation in the UK industrial sector"
Graham Harding, Managing Director of BSR added:
"British Solar Renewables is delighted to have brought this challenging and innovative project to fruition with its development partners, WElink and Compton Group, and our EPC and funding partner, China Triumph International Engineering ("CTIEC").  We see this project as a showcase for how large scale solar can work alongside major power users such as UPM and we look forward to developing other such solar parks in the post subsidy era.  British Solar Renewables is also pleased to have an ongoing involvement in the project as O&M sub-contractor to CTIEC."
Andrew Perkins, Corporate Finance Energy Partner at EY, commented:
"This is a landmark project that highlights the vital role solar power can play not only as a cost-effective and low carbon energy source but also in supporting UK industry and local economies through job creation. EY is delighted to have played a role in this innovative and hugely important project."
Andrew Bronnert, Head of Energy, UPM Shotton, commented:
"We have been delighted by this partnership which has built on our existing site renewable energy generation, recycling and waste reprocessing to make UPM Shotton one of the most sustainable paper manufacturing sites in existence. The partnership further supports UPM's own energy strategy"
– http://www.upm.com/Responsibility/production/Energy-use/
-ENDS-
Notes to Editors
For more information:
Mike Harrison, Public Relations Manager, via email m.harrison@welink.eu or by phone 020 7268 4928
Ben Thompson, Foresight Group: bthompson@foresightgroup.eu / +44 (0)20 3667 8155
Foresight Group LLP
Foresight is a leading independent infrastructure and private equity investment manager which has been managing investment funds on behalf of institutions and retail clients for more than 30 years.
Foresight has £2.3 billion of Assets Under Management across a number of funds, including Listed Vehicles, Limited Partnerships, Enterprise Investment Schemes (EISs) and Venture Capital Trusts (VCTs).
As one of Europe's leading solar infrastructure investment teams, Foresight funds currently manage more than €1.2 billion in some 70 operating Photovoltaic ("PV") plants in the UK, Southern Europe, Australia and North America.
Foresight Group is headquartered in London, with international offices in Rome, San Francisco and Sydney and regional UK offices in Nottingham, Manchester and Guernsey.
British Solar Renewables
British Solar Renewables is one of the UK's leading integrated large scale solar developers providing asset management, O&M, grid connections and battery storage. Since its launch the Group has developed and built out over 550MW of solar projects.
EY
EY is a global leader in assurance, tax, transaction and advisory services. The insights and quality services it delivers help build trust and confidence in the capital markets and in economies the world over.
UPM Paper ENA
UPM Paper ENA (Europe and North America) is the world's leading producer of graphic papers, offering an extensive product range for advertising and publishing as well as home and office uses. The high performing papers and service concepts of UPM add value to our customers' businesses, while actively fulfilling demanding environmental and social responsibility criteria. With headquarters in Germany, UPM Paper ENA employs approximately 9,000 people. To learn more about UPM Paper ENA visit: www.upmpaper.com